GPS Skip Bags
GPS Skip Bags are the new way to Recycle you domestic rubbish.
GPS Skip Bags are perfect for Recycling your Garden waste or any DIY or Building waste.
If you need a good old clear out, GPS Skip Bags are the perfect option.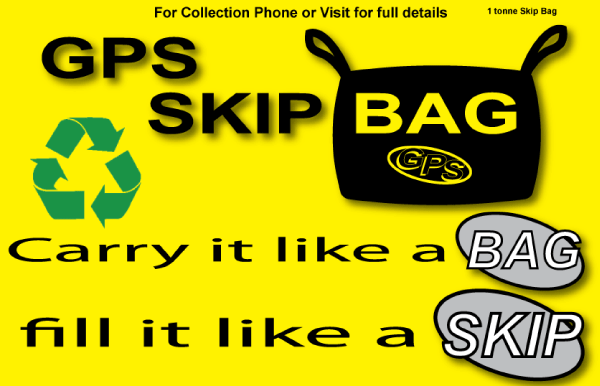 What are Skip Bags:
GPS Skip Bags are a light weight plastic bag, conveniently folded flat in a carrying bag, The GPS Skip Bag can hold up to 1 tonne of waste, then collected by GPS Skip Hire for recycling.
The bags are available from our stockist's (see our list of stockist's for details) or direct from GPS Skip Hire.
SKIP BAG ADVANTAGES:
No requirement for skip permits. The skip bag can be stored on your
property until filled.
Skip Bags come flat packed. No storage problems, so Skip Bag is
available to use at your convenience.
Easy access. Skip Bags can be in driveways behind garden walls,
the only requirement that they are within 4 meters of the roadway.
They are lower cost than the equivalent steel skip.
Skip Bags leave NO marks or scratches on your driveway or paths.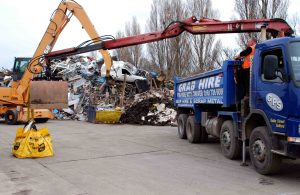 4m access, on a driveway or over garden fence.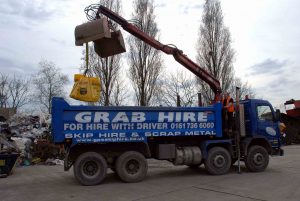 Details about the Skip Bag Service:
1. The Bag
a. The bag is not reusable and will be recycled by GPS after use.
b. The bag will hold a 1 tonne weight capacity.
c. The BAG is intended for the disposal of ordinary general, garden and building waste only. Hazardous dangerous or toxic materials such as asbestos, motor tyres, batteries, oil, pesticides, clinical waste, fridges, freezers or gas bottles must not be placed in the bag.
d. The Bag must be placed and filled as per GPS instructions

i. The bag must be placed within 4m of the road.
ii. Free from height obstruction with access to lift the bag onto the GPS vehicle.
iii. The bag must not be over filled.
iv. The hirer shall be solely responsible for the condition and positioning of the bag.
v. The bag should only be used if it is free from rips or holes, and in good condition.

e. The bag is to be lifted only by the lifting straps and by GPS personel.
2. The Service
a. The service is the supply of the skip bag and then the collection of waste materials in the Skip Bag (as described in section 1.d.),the waste is to be recycled and disposed of by GPS.
b. The service is only available with in the Salford and surrounding areas as indicated by the Diagram.
c. The use of this service is limited to GPS and should not be operated by any other contractors.
d. The use and placement of this service is the customers solely responsible
3. The Stockist
a. Only approved stockist's may supply this bag to customers.
b. Stockist's will provide details of GPS Skip Bag collection prices.