Skip Hire Salford, Same Day Service
Probably the cheapest Skip Hire in Salford & Manchester.
with very Competitive Prices available on request.
Charity Skip Donation.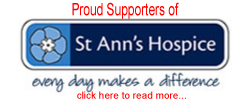 For every skip ordered in the month of August, a pound of the hirers fee will go to St Annes Hospice and will be matched by GPS Skip Hire.
All sizes are approximate, if you need specific details, Please contact us.
Skip permits
Skips require a permit if they are to be placed on the highway.
This is a requirement of the Highways Act 1980. The local authority has the right to specify conditions relating to the position of highway skips, and may levy a charge for placing the skip on the highway.
As part of our service, we will advise you if a permit is required. If a permit is required, we will arrange this permit and any charges the local authorities may levy is added to the cost of the hire. This is to ease the hiring process by providing us as the one point of contact needed to remove your waste.